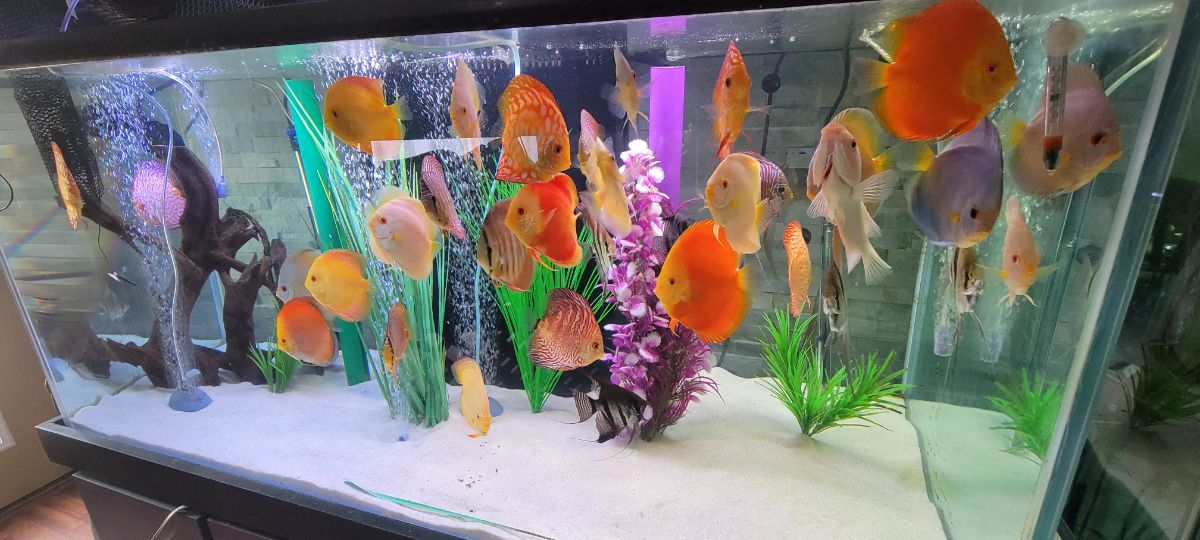 Brief Tank Description
200 gallon color PVC Discus Tank
What Filter System Do You Use?
Sump with planted refugium
What Heating System Do You Use?
Eheim 300w × 3
What Lighting System Do You Use?
Finnex Vivid+
What Fish Do You Have In Your Tank?
5 Albino Blue Diamond, 4 Blue Diamond, 2 Red Rafflesia, 3 Checkerboard, 1 Yellow Rafflesia, 1 Yellow Albino, 1 snow flake, calico 2 golden snakeskin, etc.
What Plants Do You Have In Your Tank?
What Makes Your Tank Unique?
I have disguised bright colored PVC pipes with beautiful colored plants to enhance the colorful Jack Wattley Discus under Finnex lighting.
The natural driftwood piece also gives breeding ground and a beautiful natural look while helping stabilize the water conditions.
A planted sump refugium helps the Oxygen demand along with the many bubbling air stones to capture the eye and add ACTION!
What Do You Like Best About Your Tank?
Discus picked out by Gabe at Jack Wattley