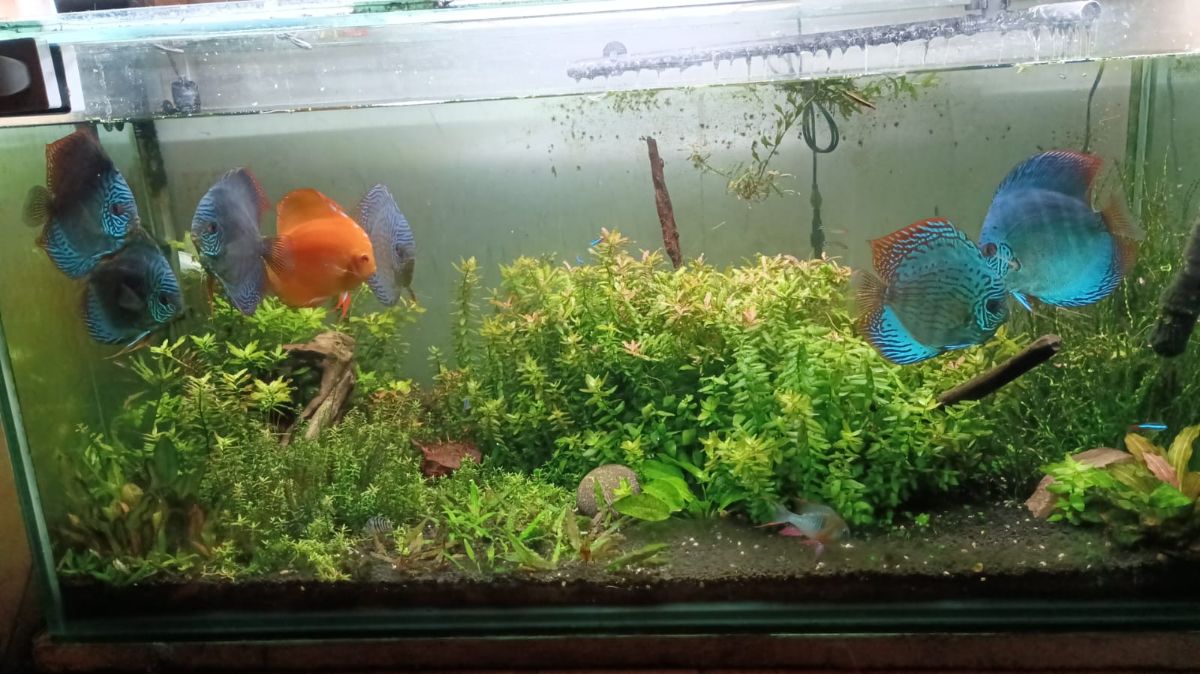 Brief Tank Description
tanque de 360 litros
What Filter System Do You Use?
2 Filtro Externo Canister Sunsun Hw-304a 2000 L/h
What Heating System Do You Use?
calentador eheim 300w
What Lighting System Do You Use?
Lámpara Chihiros Modelo A1201
What Fish Do You Have In Your Tank?
6 discos tuquesas (uno es un red turquesa de jack wattley traído a Chile por la tienda "tumundopet"), 1 disco pidgeon, 15 tetra borrachito, 20 tetra neon, 15 corydoras panda, 8 pez lapiz, pareja de ramirezi boliviano, pez zorro volador siamés
What Plants Do You Have In Your Tank?
echinodorus rosse ,echinodorus versivius ,echinodorus reni ,echinodorus radicals, cryptocoryne wendtii, cryptocoryne wendtii brown, cryptocoryne red tiger, cryptocoryne purpurea, cryptocoryne pink panther, hygrophila polysperma, hygrophila polysperma tiger, ludwigia ovalis, ludwigia repens, ludwigia senegalensis, nymphaea lotus red, Marsilea hirsuta, Bacopa Monnieri, y otras que no recuerdo el nombre.
What Makes Your Tank Unique?
mi tanque a sido una transformación y aprendizaje el cual lleva 3 años conmigo donde he podido adentrarme en este extenso mundo del acuarismo, en donde con mucha dedicación y tiempo he podido alcanzar la estabilidad tanto con mis peces y plantas logrando un acuario natural y sano.
se que quizás no pueda entrar en el concurso por ser de Chile, pero quería mostrar mi acuario a Jack ya que el a sido una de las personas que me metió a este mundo y el cual me a ayudado mas indirectamente con su entrega de información y amor por los discos. cuando supe que llegaría una importación a Chile de Jack directo de Miami no dude en adquirir uno de sus fascinantes ejemplares.
What Do You Like Best About Your Tank?
lo que mas me gusta es que me entrega paz, al llegar después de un día de trabajo y poder recostarme y ver este increíble acuario es un espectáculo el cual me distrae y logra darme un momento de calma y meditacion